For the record, because of Tripod's annoying 'gif or jpegs only' feature, I've renamed all the png files into gif format. If you want to use them, simply rename them into png format, and you're good to go!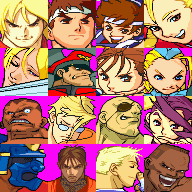 Street Fighter faceset. UPDATED
When's the Street Fighter charset comin' up? Whenever I get up off my lazy butt and make it. Sigh... having ADD sucks...